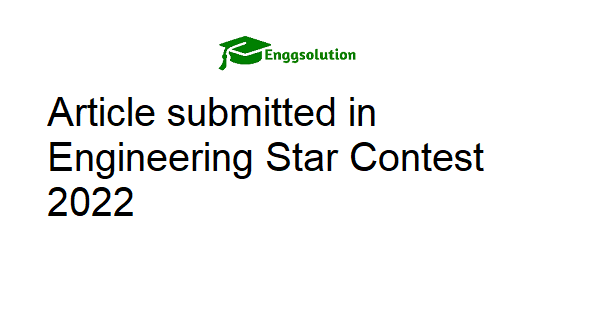 Important information about engineering field
admin | 2022-09-19
Click here to join Our whatsapp group
Engineering disciplines integrate scientific principles with practically oriented research, providing systems and processes that themselves create ways of acquiring new knowledge. This integration makes engineering critical to successful industrial innovation.

Engineering is an area of study that involves scientific theories and mathematical processes. Its application is to design and develop scientific solutions that are economical, safe and improve human lives considering safety, regulations and practicality.
The most prominent engineering fields are civil engineering, chemical engineering, electrical engineering, mechanical engineering and software engineering. There are many sub-disciplines of these fields:
Civil engineering :
Civil engineering is one of the oldest engineering fields. It is the discipline of engineering that deals with the design, construction and maintenance of infrastructures such as bridges, roads, canals, dams, airports, sewage systems, pipelines, structural components of buildings and railways.
Chemical engineering:
Chemical engineering is the field of engineering that involves the study of the operation and design of chemicals, plants, chemical processing and methods to improve production. Chemical engineers work in labs and factories to experiment, ensure safety and maximise production. They develop the processes to convert chemicals, raw materials and microorganisms into useful products.
Electrical engineering:
Electrical engineering covers the study of electricity and its behaviour.
Computer engineering:
Computer engineering is the engineering field that combines the knowledge of computer science and electronic engineering to develop computer and their parts.
Mechanical engineering:
Mechanical engineering deals with the study of objects and systems in motion. It comprises designing, developing, manufacturing and testing mechanical systems such as tools, engines and machines. The discipline is extremely critical for several manufacturing and industrial processes.
And there various fields in engineering.
Scholarship Opportunity Any technology related post Opportunities for engineers Tips , facts and other informational content:
There are numerous scholarships for engineering students that are announced every year.Engineering is among the most popular graduation courses that students take after finishing high school. But how many of you wonder about the best career options after engineering?
"The term 'Career' means advancement by any person in their lifetime by some action, and the action must be related to their jobs."
This phrase is highly complex when it comes to a career, particularly in India.Often after graduation, students have dilemmas about their next step in pursuing their careers. They have to think about what they are passionate about. The world is brimming with possibilities and maybe most of you might not be aware of all of them. After engineering, one has to know the list of all career options to pick the right one.
And because engineering studies are often time consuming, scholarships that can help students pay for additional semesters are of particular importance since.
9 CAREER OPPORTUNITIES IN INDIA AFTER ENGINEERING
To support you in this respect, here is our list of the best career options for students who are wondering what to do after engineering:
1.Higher Studies: Pursuing higher studies is one of the most popular career options after engineering. If you're an engineering student, then you can prepare for the GATE exam.
GATE (Graduate Aptitude Test in Engineering) is an examination that tests the comprehensive understanding of the subjects of undergraduate engineering. For M.Tech, you can join prestigious engineering colleges (IITs and NITs) with an excellent GATE ranking. M.Tech is one of the most popular after-engineering courses.
2. Management
Studying management after graduation is one of the popular career options among engineering students. Studying management may help you get a high-paying job with more responsibility.
One needs to get an MBA to reach that field. MBA is one of the chosen courses after engineering. For that purpose, the CAT (Common Aptitude Test) exam is required. The CAT exam score will decide which college you are admitted to.
3. Entrepreneurship
There was a time when engineers were not interested in this field. But the youth has been motivated by the achievements of many tech pioneers in recent years. After graduation, you can choose to launch your entrepreneurial voyage.
There are several opportunities in store for aspiring entrepreneurs. One can enter a start-up incubator, and give business a head-start. There are various Indian start-up incubators including AngelPrime and CIIE IIMA.
Entrepreneurship demands patience. But the reality of establishing and running a new business is untold. Besides, the returns of success as an entrepreneur are incredible.
4. Become an expert
Want to get a high-paid job right at the beginning of your career?
Then you should take the in-demand skills course or qualification. Many organizations are searching for engineers who know the new technology, including artificial intelligence and block chain.
Workers are better-paid in those industries. Besides, one wouldn't have to think about finding a job, as high-quality courses often provide work assistance. And there is enormous demand for those skills. Companies are in desperate need of candidates who are experts in AI, data science, blockchain, and the like. In this region too there are several varieties. Each competency has different applications. Therefore, you have the choice to choose the one you want to learn.
Get a certification:
There is no end to learning, particularly when you are a curious soul willing to acquire knowledge and acquire new skills forever. If you are someone who needs to be upskilled before taking on a professional job, certifications are the best path forward. You can participate in qualification courses related to the engineering sector after completing graduation.
5. Public Service Undertakings
It would be unfair to neglect PSUs when we have already discussed the GATE test. You can also opt to join government-run PSUs after engineering, and get a well-paid job.
The level of competition for those jobs is very high. But in the end, it is worth it. PSUs check the recruitment score in your room. There are several PSUs, and each of them announces annually the appropriate GATE score to apply.
6. Campus Placements
For most engineering students it is one of the most favored career options after engineering. One can opt to get an engineering job by placements on the campus. On-campus placements will help you get a highly paid job even before you get your degree.
It Is a perfect way to get one's career started. Having a spot on-campus gives protection and a guaranteed career after the completion of the degree. Participating in extracurricular activities helps in highlighting soft competencies (such as leadership, communication, innovation, etc.). Therefore, we suggest that you should also concentrate on them.
7. Internships
Often, securing a full-time job in a reputed organization directly after graduation becomes extremely difficult.
This is the perfect time to do internships or apprenticeships. Practices or apprenticeships are an ideal way of introducing yourself to the true world of work. Though they last only for a few months (3-6 months), they will help in developing a professional outlook and gain a deeper understanding of work ethics.
The Internship is like a short-term training phase in which one learns the ropes of the job, understands how to behave in the workplace, and becomes aware of their main strengths and weaknesses. As a student, they give students the perfect opportunity to learn and develop. Employers don't give so much esteem to internships/apprenticeships for nothing.
8. Enter the private sector
Although campus placements are an excellent source of lead for the private sector, indulging in some of your own research does not cause any harm. You should build a great resume that highlights your key strengths, competencies, and areas of expertise. Another important thing to note when developing a CV is that different work profiles have different needs. So, tweaking your resume according to a specific work description is key.
For example, if you apply for a Software Engineer's profile, make sure to highlight your mathematical skills, programming skills, and command over different programming languages. Include these if you have any related certifications or internships under your jacket. Basically, you have to grasp a work profile's demands, and then build your resume around it.
9. Teaching
Teaching is a very noble profession and this career can be chosen by those who have a passion for teaching. Many Indian universities and colleges offer B.Tech students as guest lecturers or lecturers to work with them. Many new engineering colleges are emerging in India, and because of this, teachers' job opportunities are also growing. As there are numerous B.Tech specialisations available, it will be easy for a B.Tech graduate to get employment with private colleges as lecturers or guest lecturers.As you can see, after graduation, engineers have lots of career opportunities. There are enough prospects everywhere, whether you choose to ascend the corporate ladder or perform research.
The above Is a list of some fantastic career opportunities after graduation. We hope it'll answer your questions: "What to do after engineering?" or "What to do after B.Tech?"
You will decide your interest after looking at the career option that you would like to opt for after graduation. For all young minds wondering what to do after engineering, you need to check the amount of time & the level of difficulty involved in pursuing that path before deciding which direction to choose after your graduation.
Conclusion:
If you want to pursue your career in engineering, then without any shred of doubt go for it. There is vast opportunities available for you in every stream. Engineers are everywhere. They are in administration job. They head big companies. They are in banking sector. They are in teaching job. So, after doing engineering a lot of career opportunities will be available.
Click here to join whatsapp group
Click here to join Telegram channel

Share This content :